On June 29, China Association for Quality (CAQ) and China Machine Press (CMP) signed a strategic cooperation agreement. Despite achieving mutual complementarity in the interest of our common development, CAQ will have deep cooperation with CMP on quality-related book planning and publishing, cultural and creative products development, quality knowledge spreading, and other potential areas.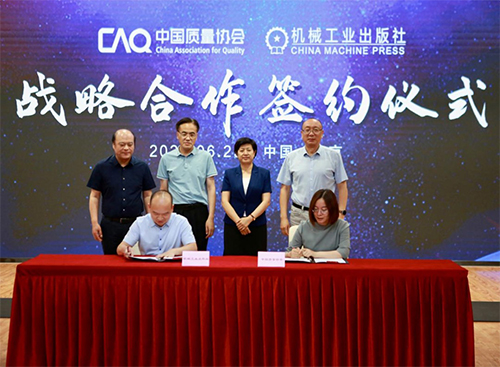 Li Qi, Chairman of the China Machinery Industry Information Institute and the President of CMP, expressed that through 70 years of development, a "five-sphere integrated plan" of CMP thinktank, CMP communication, CMP publishing, CMP distribution, and CMP digitalization has been established, winning high reputation around the world. CAQ, as one of the most influential quality organizations, enjoys a pivotal role in quality development and spreading. With those sound backgrounds, it is a great beginning for future cooperation of both sides. CMP will give full play of its advantages, work closely with CAQ and support each other in many areas.
Duan Yonggang, Vice President and Secretary-general of CAQ, said that, as the first batch of social organization in China, CAQ has made various practical works in quality fields. CAQ has a range of businesses covering quality certificates, quality training, quality consulting, user evaluation, brand cultivation, international exchanges, and international services offering. CMP, as a renowned publishing press in China, has high social responsibilities. The cooperation offers a platform for both sides to explore available sources and potential cooperation for building China's strength in quality.