CAQ has been carrying out China satisfaction research since 2017. China satisfaction research covered four major fields including Fast-Moving customer Goods (FMCG), Durable customer Goods, Service Industry and Digital Economy, 40 sub industries and 566 brands in 2020. A total of 21,567 customers from 31 provinces in China participated in this survey, covering first-tier cities, new first-tier cities, second-tier cities, third-tier cities and below.
Firstly, the quality customer experience has improved year on year, but customer's satisfaction feeling in consumption still needs attention: 2020 Quality customer Experience Index (QCEI) is 47.5 points, increasing 3.2 points compared with 2019. However, the China National Customer Satisfaction Index (CNCSI) has slightly decreased compared with last year, and there is still a gap between the brand quality and customers'expectation.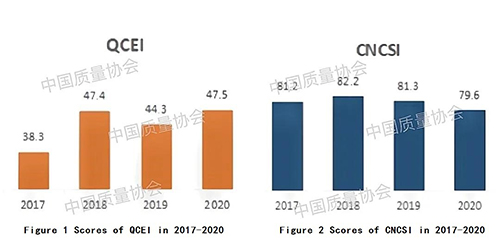 Secondly, the quality customer experience of digital economy and service field is relatively good, but the information security and privacy protection of digital economy are the pain points of quality customer experience. The score of customer satisfaction index in digital economy field is the lowest (77.7 points), but it's ahead of other fields in quality customer experience (50.1 points).

Figure 3 Scores of QCEI and CNCSI in four fields
Thirdly, main results of CNCSI and QCEI in 2020.
a.The regional differences gradually narrow, and the synergy effect has appeared. The gap of customer satisfaction and quality customer experience of 2020 among seven regions in China gradually narrow.

Figure 4 Scores of QCEI and CNCSI in seven regions
b.The quality customer experience in first-tier cities is the best, and the experience in the third-tier and below cities has the highest improvement comparing with previous year. CNCSI and QCEI in the first-tier cities are the highest. Meanwhile, customer satisfaction in third-tier and below cities increase significantly (CNCSI increased by 0.5, QCEI increased by 8.7), and the gap of customer satisfaction between cities gradually narrow.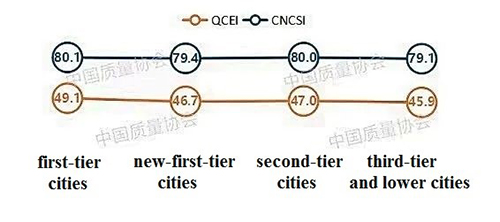 Figure 5 Scores of QCEI and CNCSI at different city levels
c.Post-80s and post-90s have high satisfaction scores. Post-80s and post-90s have relatively high scores on customer satisfaction and QCEI, which showed the characteristics of "high in the middle and low at both ends".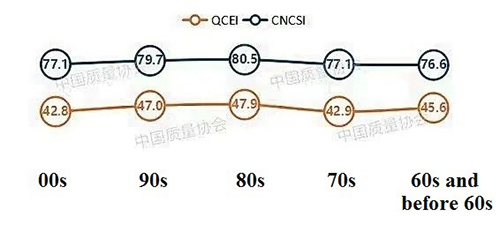 Figure 6 Scores of QCEI and CNCSI in different generations