CAQ continually has been carrying out research on service quality satisfaction of China's digital economy, taking new industrial trends, new technologies and emerging service industries as an important point to understand the status of service quality satisfaction of digital economy from the perspective of customers in 2020.
Firstly, comparing with the previous year, China's digital economy service quality satisfaction has greatly improved and achieves remarkable results. 2020 digital economy satisfaction score is good with 77.7 points, which is 5.6 points higher than that of 2019.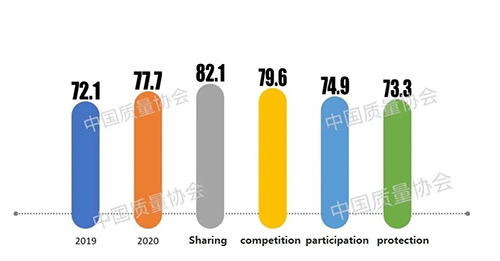 a.Different cities: the satisfaction degree of digital economy service quality has improved comparing with previous year, showing the characteristics of gradually weakening from the east to west.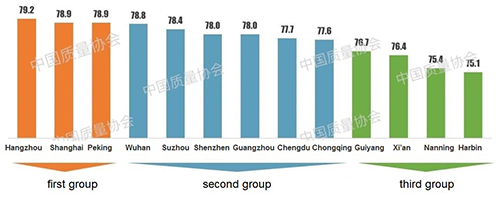 b.Different industries: the satisfaction scores of various industries increased significantly compared with previous year. The overall satisfaction scores of digital economy service quality in different industries are all above 76 points, and the gap between the highest and the lowest is small (less than 2 points).

Secondly, sharing the achievements of digital economy development, customer' sense of happiness has been increasing. The 2020 digital economy sharing index (82.1) increases 1.5 points comparing with the same period last year, and consumer happiness increases by 2.2 points. This indicates that the development level and popularity of digital economy services are further improved, and the role of digital economy services in enhancing consumers' happiness is further enhanced.
Thirdly, In the competition of digital economy service, the overall service quality and fee collection are the shortcomings. Customer's satisfaction with the quality of service and service personnel is low, and there were some phenomena in digital economy service, such as unclear charging standard, arbitrary charge, high price and so on, which seriously affected the customer's experience and is harmful for the deep integration of digital economy and industry.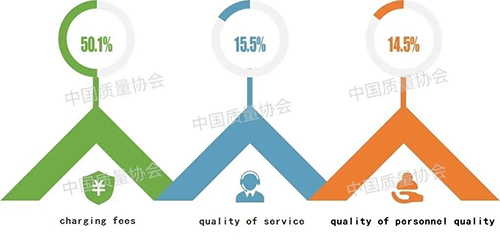 Fourthly, the scope of digital economy services is more extensive, and customer participation has increased. The average time for customers to use digital economy services most frequently is 3-5 years, and the average frequency is 5-10 times a week, and the intensity of participation has increased compared with the same period last year..
Last of all, consumer trust in digital economy shows a good trend, while privacy protection is still a pain point for consumers. 58.6% of customers are worried in process of receiving digital economy services, among which 73% are most worried about personal privacy security, and the evaluation of personal privacy security is only 65.5 points, which is the lowest in all evaluation indicators. In addition, trade safety and after-sales protection are also mentioned by more than half of customers.