From September 6th to 8th, CAQ participated in the 2022 Global Excellence Council (GEC) annual meeting, hosted by the Dubai Government Excellence Program.
CAQ and other founding members of the GEC, representing the African Excellence Forum; Business Excellence Australia; Baldrige Performance Excellence Program, USA; Confederation of Indian Industry; Dubai Government Excellence Program; European Foundation for Quality Management; Instituto para el Fomento à la Calidad Total, Mexico; Japan Quality Award; Malaysia Productivity Corporation; FUNDIBEQ, Iberian peninsula, and Latin America; and Fundação Nacional da Qualidade, Brazil, co-signed the "Declaration of Principles of Global Excellence Council".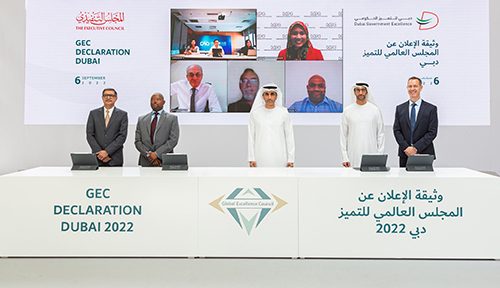 The Declaration clarifies the mission of the GEC "to help organizations improve the effectiveness of performance excellence programs for the benefit of all stakeholders" and the vision of "becoming a global leader that defines and promotes organizational excellence", and proposes extensive collaboration and research on the promotion, training, and recognition of performance excellence.
The China Quality Award program team of CAQ also shared the operation practice and experience of the China Quality Award for more than 20 years during the meeting. Other members of GEC highly recognized the standardization, professionalism, and influence of the operation of the China Quality Award.
CAQ will continue to deepen exchanges and cooperation with global leaders of performance excellence on the multilateral platform of GEC and continue to promote the continuous development of performance excellence and China Quality Awards in the direction of specialization and internationalization in the future.